The annual meeting of the Adams County Historical Society will take place on Tuesday May 8 at 5:00 pm at the Heritage Center in Friendship. Following the meeting at 7:00 pm we will have a special program featuring historian and author Peter Shrake discussing his book, The Silver Man, The Life and Times of Indian Agent John Kinzie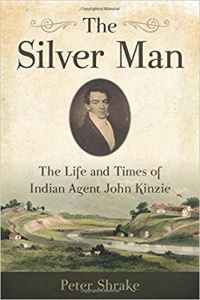 Currently an archivist at Circus World Museum and formerly the Executive Director of the Sauk County Historical Society, Shrake earned a Masters of Arts in history from UW-Eau Claire and a Master of Library and Information Studies at the UW-Madison.
He has long been interested in the pre-Settlement history of central Wisconsin. That interest has resulted in his book The Silver Man, The Life and Times of Indian Agent John Kinzie. Published by the Wisconsin Historical Society Press, it chronicles Kinzie's life, focusing on the 1820s-30s when he served as agent to the Ho-Chunk at Fort Winnebago, near what is now Portage. These were turbulent times in central Wisconsin, marked by the conflict between the United States and both the Sauk and Ho-Chunk people. After leaving Fort Winnebago in 1833, Kinzie became one of the founders of the city of Chicago where a street in the heart of the city bears his name.
Students of Wisconsin history have long been familiar with the journal written by Kinzie's wife, Juliette. Her book, Wau-Bun is an informative and entertaining first-hand account of life on the frontier in Wisconsin.
Shrake's book brings some overdue attention to her husband, who played a key role in forming the relations between the early settlers of our state and the native people who preceded them.