K – A Girl's Life in Friendship, 1905-'06:
At "Tea With Katherine"  on Saturday, November 29th young Katherine McGowan (Erin Pease) showed guests around "her" house while author Sharon Hart Addy signed copies of K – A Girl's Life In Friendship, 1905-'06 and guests enjoyed tea and cakes in the dining room and parlor.
K – A Girl's Life in Friendship, 1905 -'06
Katherine McGowan lived a story book life and here is the book that proves it. The girl who grew up to be Supervising Teacher of Adams County schools and fearlessly navigated our sandy roads in her trusty Model T Ford was born and raised in Friendship. Her early years shaped the woman she became. They also make for a set of very interesting stories.
Author Sharon Hart Addy has combined historical research and storytelling skill to tell us about one year in the life of young Katherine. Addy has written five stories, each one based on a special day, to describe what it was like to be a youngster in Friendship at the start of the 20th Century.
Katherine anxiously prepares to recite a patriotic poem for Memorial Day. She watches the veterans of the Civil War parade on July 4th, and goes to the county fair, which was just as exciting for a child then as it is today. She celebrates her birthday with a gift she long desired but she also learns that life is not always a party.
Addy shows how the McGowan family coped with the loss of their breadwinner, Katherine's father and the village's medical doctor. Katherine's mother Hattie, her elder sister Nessie and brother Wynn become real people we can all relate to. She also paints a vivid portrait of the little village of Friendship as it entered the modern age. Katherine rides to the county fair in a horse-drawn buggy, but also experiences her first thrilling ride in an automobile.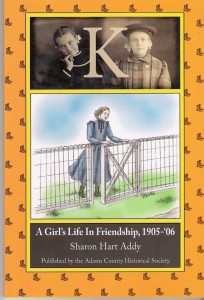 Addy is an experienced, published author of children's literature, but K is not just for young people. There is no age limit on reading  stories as well-told as these are.
Addy has donated her services to the book project. Book production was underwritten by a generous grant from the Easton-White Creek Lions and other donors. That means all proceeds from sales will go to our Society. The book is on  sale now for $10.
Our Heritage Book & Gift Shop (311 Main Street, Friendship) has it fresh from the printer in stock and selling fast.