Dr. and Mrs. Washington Emmet McGowan Family
Dr. Washington Emmet McGowan was born August 31, 1858 in the Township of Warren, Waushara County, Wisconsin. He was the youngest of six children born to Alexander Orr McGowan and Margaret McKittrick. They, in 1849, during the country's potato famine, emigrated from Ballyhalbert, Northern Ireland, a small town which is just south of Belfast.
Alexander and Margaret McGowan and three older children, settled in Carrol County, Ohio. They remained there for almost a year. In the spring of 1850 they moved to Wisconsin and settled on government land, in the town of Warren, Waushara County. Here the remainder of their six children were born. David Alexander Orr, Eliza Nessy Mary Jane, and Washington Emmet, the future doctor.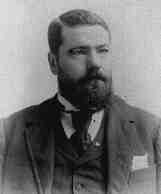 His youth was spent growing up in his native county, and there he received such education as the schools in the vicinity afforded him. On May 27, 1877 he married Harriet (Hattie) O'Dell. Their first of four children, Nessie Margaret, shown here, was born in 1878. Second to follow was son Edward (affectionately known as Ned) born in 1881. To follow were Emmet Jr. (Winn) in 1885 and Katherine in 1894.
Although Washington Emmet was a practicing farmer at the time of his marriage, in the spring of 1884 he received his certification as a medical practitioner from the Hahneman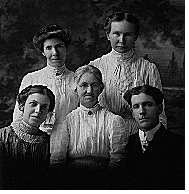 Institute. During the next year he looked for a suitable location to start a medical practice. He decided on Friendship Wisconsin, in Adams County. Just after relocating his family to Friendship, the latter two of his children were born, Emmet Jr. and Katherine.
In this photo you will see Hattie in the center, surrounded by three of her children. Daughter Nessie on the upper left, Ned on the lower right, Katherine on the lower left, and Barbra Sarb (a house maid) on the upper right. Winn is not pictured.
As Dr. McGowan's number of cases increased so did his popularity. He traveled widely throughout central Adams County, attending those in need and seemed, "to be getting a very good reputation", for his skills in the treatment of disease. Along with his medical practice Dr. McGowan became involved in many community affairs. He became a member of the Good Templar organization and was selected to serve on the committee for festivities in association with a thirty-foot hot air balloon. Several articles are written about that day. In the spring of 1889 the doctor was elected chairman of the Town of Adams.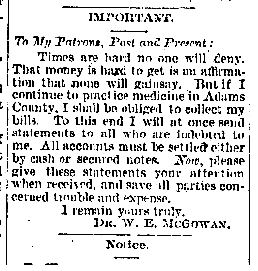 In October of 1889 Dr. Sneary, (a lady doctor from Ohio) came into the area and started seeing patients at the McGowan's home. This freed up some time to allow Dr. McGowan to see to his political duties, which included appointment to several committees. He worked as the overseer to county medical finances and even once had to analyze the contents of a horse's stomach for a court case.
Serving the medical needs of the area however, was the Doctor's primary task. He traveled in many directions. Occasionally in the company of a fellow doctor, Dr. Harrison, to treat and examine those in need. Inevitably, though, he became faced with a problem encountered by many physicians of the times. With an increase in the number of patients, especially those whose financial situations were far from ideal, he was forced to issue a statement in August of 1887, pictured above, calling for payment of past due bills. This is an excerpt from the Adams County Press where Dr. McGowan posted his request.
The doctor had become a busy man. He had a very busy medical practice, was elected to be the President of the Adams County Agricultural Society, was installed as Worthy Master of the Quincy Lodge #71 Free and Accepted Masons, and still found the time to build a barn and wire fence on his property. But, in the fall of 1893, the good doctor had become his own patient. He was diagnosed with typhoid fever. He did well to fight his ailment, but eventually the fever overcame him. Dr. Washington Emmet McGowan passed away, at his home, on December 3rd, 1893.
The loss of Dr. McGowan was keenly felt not only by the family, but the community as well. Hattie McGowan, carrying an unborn child who would never know it's father, had lost her young husband and was left with the responsibility of caring for a fatherless family. Hattie managed to keep the family and house together, maintaining the level of caring that the community had come to respect, until 1946, when she too, was laid to rest.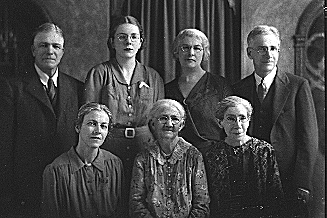 In the coming years their children continued their family traditions. Nessie Margaret, never married, became a teacher and passed away in 1952. Edward became a soldier and served in the Spanish American War. He later moved to Walla Walla, Washington and died in 1958. "Winn" McGowan remained in Friendship and married Edna Dawes in 1918. Edna gave birth to their daughter, Elizabeth "Betty" Louise McGowan in Friendship. Edna passed on in 1973. Katherine served as Adams County's Supervising Teacher for 37 years, and passed away in 1991. Betty, who was last surviving direct descendant of  Dr. McGowan, died on January 10, 2004 in  Friendship. The above photo, was taken in the 1930's. First Row L-R: Katherine McGowan, Hattie McGowan, Nessie McGowan. Second Row L-R: Ned McGowan, Betty McGowan, Edna McGowan, and Winn McGowan.