Adams County Enters the Great Depression
Friendship Reporter Chronicles the Depression's Beginnings: 1929-1932
Edited by Harry Davis
1929
                On Black Friday, October 25, 1929 the Stock Market crashed in New York City; 1,000 miles away from Adams County.  The next issue of the Friendship Reporter mentioned not a word about the event.  In fact, for the rest of the year 1929, if economic hardships were being experienced in Adams County, you couldn't tell it from the local newspaper.
1930
The new year could not put a damper on the good times reporting in the Friendship Reporter.  Not until May, when Jackson County publisher and legislator Merlin Hull started a weekly column was there any indication in the paper that bad times had arrived.  Even then, the economy was other peoples' concern.  By the fall of the year however, the Depression was starting to affect the local economy enough to bring about local concern…
Bank's New Owner
January 9, 1930:  Optimism is heightened by the news that prominent Adams County native son G.W. Bingham had purchased controlling interest in the Friendship State Bank.
First Word on the Economy
May 15, 1930:  Merlin Hull's first column in the Friendship Reporter voiced his concern about the proposal for the government to operate the Muscle Shoals, Alabama power plant.  He said, "One of the loudest howls heard in Washington … is that demanding that the government 'keep out of business'."
Rail workers Cut-back
October 1, 1930:  "All of the 21 brotherhoods are agreed … that shorter hours and a shorter work week are the only means by which the unemployed railroad men can be put back to work."
Labor/Management Conflicts
October 8, 1930:  Merlin Hull's column reported that large industrial companies were taking credit for maintaining their wage schedules during the depression while "shifting employees from one classification to another" to lower the overall labor cost.  Hull claimed that "Several very profitable enterprises … have been making even more money during the depression than formerly".  Once labor realized what was happening, the unions threatened united action.
Hull went on to state that farmers' loss of buying power affected the business world as he said, "But, blind to that immense loss of buying power, business pinned its faith to industries maintaining their wage scale until better times came.  Now the faith is crumbling."
1931
Cynicism and blame placing increases in 1931.  Since the Depression has definitely come home to Adams County people begin to wonder how it happened.  Articles on the economy become numerous.
Cynicism
September 10, 1931:  Merlin Hull scorns the inaction of the government to bring back prosperity.  His column this week speaks of a new federal commission to provide a plan of federal relief.  The commission, he says, is to be made up of "prominent millionaires and labor leaders from the industrial centers."  Hull cynically adds, "Some way, small towns and farming districts are not supposed to know much about the question.  We are not among the experts of finance and industry who can speak out with authority and tell everybody else what to do to feed the hungry and warm the freezing."
Farm Prices/Production Troubling
September 17, 1931:  Friendship Reporter's front page headline was hopeful with "Milk Prices Make Strong Advance" but elsewhere on the page, readers learned that "Feed crops are particularly short this year and with the large livestock population on hand this year [livestock feed shortage is] a serious problem in some counties."  Further on: "Nearly all cash crops produced in Wisconsin are decidedly short this year."
Blame Game
September 17, 1931:  Unsigned column in same issue quotes an un-named "expert" who claims, "If the people would go to buying, would go to spending and put the money into circulation, good times would come again in a few days …" The columnist (probably Merlin Hull again) goes on to dispel the theory that buying prosperity wasn't going to work.  (Probably obvious to the readers who didn't have any money to spend) The columnist instead, blames the eastern financiers who sold fraudulent bonds to investors before the crash.
More Bad Farming News
October 15, 1931:  "The gross income of Wisconsin agriculture [for 1930] was nearly 20 percent below 1929 …" That says it all, except to note that these statistics brought the Depression to rural Wisconsin.
Making Depression Fun
October 29, 1931:  "A-F High School Had Hard Time Party" read the headline.  Miss Stoecker, a high school teacher, put on a party in the gym (now the AFMS studio).  Students dressed in "Hick" costumes, and performed skits, songs and plays within the theme.  Costume prizes went to Robert Kunkel and Bill Rowland.
Tide Starts to Turn in Washington
November 12, 1931:  The paper reported that a special election in some congressional districts resulted in a Democratic majority in the US House of Representatives.  President Hoover was to be facing one house of Congress dominated by the other party.
Disease
November 25, 1931:  Secondary effects of the economic downturn are brought home by doctors' warnings: "The present economic situation may result in increased tuberculosis in Wisconsin because it has brought about crowded living conditions, undernourishment and added strain."
Unemployment Bill
December 24, 1931:  The unemployment bill contained provisions for and emergency income tax, a gift tax and a chain store tax.  Money raised would be used to pay for the "poor relief" while reducing the property taxes.  "Farmers and home owners in Adams County would thus save in this year's taxes $8,139.86."
Rise of Crime
December 24, 1931: In the same issue containing an explanation of an unemployment bill before the legislature are several articles reporting robberies and burglaries. Nearly every succeeding issue of the paper contained reports of robbery related crimes and court cases.
1932
By the winter of 1931-32 it is apparent that outside economic help will not be forthcoming and local people will have to help each other through the Depression. Citizens begin to work together.
Poor Commission
January 14, 1932:  A commission was formed and met to plan for relief measures to help needy residents for the winter.  Commissioners John Phillips of Jackson, Emmett Marsh of Adams, and Ben Graves of Leola agreed to seek out people in need who may be too proud to ask for help.
January 21, 1932:  The Poor Commission set up a store in the courthouse basement.  County Clerk Smedbron and Sheriff Stone managed the store stocked with flour, corn meal, oat meal, rice, tea, coffee, sugar, beans, peas, cocoa, lard, salt, pepper, soap and matches.  Supplies were distributed to families by order of the Poor Commissioners or by weekly allotments.  No cash sales.
February 4, 1932:  Poor Commissioners reported that 36 families were receiving aid from the basement store. Not included were families receiving aid from other sources.  Also, while more families than normal were receiving aid, it was fewer than had been anticipated.
Prison Jobs
February 4, 1932:  The Warden at the Waupun State Prison asked for help in solving a prison labor problem.  Waupun had more prisoners than ever before.
Tax Time Extended
February 11, 1932:  The Friendship village board extended the time to pay property taxes without penalty from March 1st to June 1st as allowed by a new state law.  (At the same meeting the board did away with parking in the middle of the street in favor of parallel curb parking)
Rail Stations Close
April 7, 1932:  The C&NW Railroad applied to the State Public Service Commission to downgrade the stations at Brooks and Dellwood from agency stations to caretaker stations.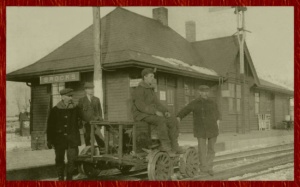 Foremen Become Laborers
Same Issue: The paper announced that a Commonwealth Telephone Co. crew was moving the telephone lines from Belfast St. (now Main St.) to the back streets.  The paper said, "The crew … is made up completely of men, who in more prosperous times were all foremen of crews themselves."  What happened to former crewmen we can guess.
State Delays Payments
April 7, 1932: "State Capitol Newsletter" feature announced that the state equalization fund was distributing payments to school districts in small amounts.  Reason given: "state officials hesitate to make abrupt demands for large sums from banks in which state funds are on deposit."
Local Employment on State Road Building
April 7, 1932: Edw. Blomquist and Robt. Matthews of Adams met with the State Highway Commission regarding the surfacing of State Highway 13 through Adams County to be done that summer.  They requested and received assurances that 75% of the labor force would be local unemployed men. The paper declared, "This means considerable to Adams and Friendship, where a large number of railroad men have been laid off during the past fall and winter, and are still out of employment, with little prospects of getting their railroad work back for some time to come."
Spring Election Reflects Changing Mood
April 14, 1932: "Old Adams County rock-ribbed republican since the days of the Civil War … upset all records at the presidential preference and delegate election, and cast a democratic vote of 521; republican, 485; prohibition, 18; and socialist, 1.
Fight Railroad Station Closings
April 14, 1932:  "Dellwood and Brooks citizens protest the closing of railroad stations."  The State Public Service Commission held a public hearing that drew a large crowd.  The paper editorialized, "We believe that with the return to anything like normal times and conditions, both points provide enough business to warrant regular station service, and in the meantime the railroad company should not further hamper the activities of these communities by curtailing their railroad and shipping facilities."
More Railroad Cutbacks
May 19, 1932:  In the largest cut in the history of the Adams railyards, the C&NW announced that 39 men were being laid off, leaving a force of 27 at the yards.  The railroad said the cutback was necessary due to "the lack of transportation owing to the depression, and by the active competition of the private automobile, the buses and the trucks."
(NOT)Hired Hands
July 14, 1932:  Wisconsin Agriculture Department reported that, "Wisconsin farmers are employing fewer hired men and paying the lowest wages in years."  The report said that farm wages at about a-dollar-a-day were 32% lower in 1932 than in 1931. Even with cheap labor available, farmers were not hiring.
Governor Campaigns on Lower Taxes
July 21, 1932: Progressive Republican Governor Phillip F. LaFollette gave a campaign speech to about 400 people in Railroad Park in Adams (now site of MSA Engineering office).  The paper reported that the governor said he had lowered farm taxes 23% in a single year.  He charged the Stalwarts[1] with the economic ills of the country.
Democratic "New Deal" Ushered In
November 10, 1932: A huge headline proclaimed 'ROOSEVELT NAMED PRESIDENT".  Adams County, along with the rest of the country, went Democratic in a big way in 1932.  FDR won in every Adams County precinct.
The Vote in Adams County
President:
(D) F.D.Roosevelt  2,117                (R) H.Hoover         780
Governor:
(D) A.Schmedmann1,607               (R) W.Kohler      1,212
U.S. Senate
(D) F.R.Duffy,  1,440                      (R) Chappie         1,141
U.S. Congress
(D) Chapman           1,028                (R) G.F.Boileau  1,255
(Republican Gerald F. Boileau had the endorsement of the Adams County LaFollette Progressive Asso.)
_____________
[1] Stalwarts: conservative wing of Republican Party.
This article first appeared in the Winter 2002 edition of the Quatrefoil  Adams County Historical Society newsletter.