Len Koenecke: Adams County's Major League Baseball Star
An Adams County Man's Baseball Success and Tragic Death
By Harry Davis
Leonard Koenecke's athletic abilities made him an Adams County baseball hero, and briefly a Major League baseball star. But before Len could become a national
baseball playing legend, his untimely death made him an Adams County and national baseball tragedy.
Leonard George Koenecke (say KEN-eh-key) was born in Baraboo, Sauk County on January 18, 1904.  His parents, Mr. and Mrs. Herman Koenecke, moved to Adams County when Leonard was nine years old.  He attended Adams Grade School and graduated from Friendship High School in the class of 1922.[1]
A standout baseball player growing up, Len played ball at school, and while still in high school, played second base for the Adams village team along with his brother Herb.  He grew to love the game and made an effort to play baseball professionally as soon as he could.
The Minors
Just out of high school in 1922, Len began to fulfill his dream by playing his first professional baseball season with a minor league team in Escanaba, Michigan.  In later seasons he played with Springfield, Moline and Quincy, Illinois teams.[2]
When not on the diamond Len worked on the Chicago and Northwestern Railroad as a Fireman and built powerful home run hitting muscles.
On February 28, 1930 Len married schoolteacher Gladys Stoltenberg. They had one daughter, Ann Lucille born February 21, 1932.[3]
1931 found Koenecke playing outstanding baseball for the Indianapolis Indians.  He led the team in runs batted in with 141 RBIs off 224 hits that season.  His hitting put him in the top five on the team, as did his .353 batting average.[4]
Len's Indianapolis performance drew the attention of New York Giants manager John McGraw who picked him up for $75,000 and four players at the end of the 1931 season.  McGraw predicted that Koenecke "will be a bright star in the National League."
The Giants
Len played his first game as an outfielder for the Giants on April 12, 1932 and developed a reputation as a solid hitter hitting four home runs and getting 14 RBI's during 35 appearances.  His batting average was 255 for the season.  He also, however, had five errors.[5]  His batting too fell into a slump and he was sent to play out the season in Jersey City.  In New Jersey he hit .355.[6]
Back in the minors, he spent the 1933 season playing for Buffalo.
The Dodgers
Casey Stengel, in his first season as manager of the Brooklyn Dodgers, brought Koenecke back to the majors for the 1934 season.  Len had his best year that season playing center field for the Dodgers.  He batted .320 with 14 home runs and had 73 RBI's.  He also had only two errors for the season setting a major league fielding record of .994.[7]
The Dodgers' publicity book for the 1935 season forecast great things to happen for Koenecke that year. His piece in the book bragged about his powerful physique, saying, "Those magnificent shoulder muscles that are part of 'Len' Koenecke's physical development were not acquired on the ball field.  Rather, he fashioned them during months of back-breaking work as a fireman on the Chicago & North Western Railroad." [8]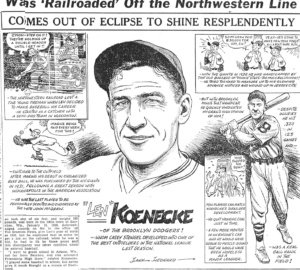 Koenecke's 1935 season did not live up to the promise of his publicity.  He was still hitting close to his previous average at .283, but he was not as powerful, getting only four home runs during the season.  His fielding also dropped off.  He lost his outfield job and spent much of the season on the bench.[9]
In Chicago on Sunday, September 15, 1935 he sat in the dugout the whole game until he was sent in as a pinch hitter in the ninth inning.  He then grounded out.  The next day in St. Louis Casey Stengel told him to go home.[10]
The Fatal Flight
Dejected and worried that he might be traded, Koenecke boarded an American Airlines plane headed for Detroit and proceeded to get drunk.  He reportedly got disruptive on the flight and was ordered off when the plane reached Detroit.
Koenecke then chartered a small plane to take him to Buffalo.  There were several versions of what happened next, but apparently a fight broke out between Len Koenecke; Irwin Davis, another passenger; and the pilot, William Mulqueeney.
According to Mulqueeney, at one point Koenecke tried to get hold of the plane's controls.  Mulqueeney, fearing the plane might crash got Davis to keep Koenecke quiet. Koenecke then started fighting with Davis.   Davis hit Koenecke with a fire extinguisher to no effect.  Then Mulqueeney seized the fire extinguisher and hit Koenecke over the head with it.  That blow proved to be fatal as Koenecke was dead when the plane made an emergency landing at a Toronto racetrack.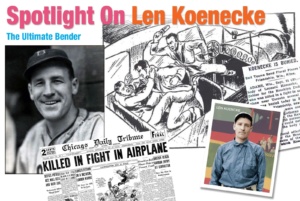 Davis and Mulqueeney were charged with manslaughter and held for a time in Toronto.[11] After the investigation, the Canadian officials dismissed the charges and released them.  Even so, people in Adams County could not believe that the Len Koenecke they knew could have acted and died in the manner that Mulqueeney and Davis described.[12]
Some of Koenecke's Dodger teammates actually cried the next day when they got the news of his death according to the New York Times.  Casey Stengel was unable to speak and unable to believe it was true that Koenecke was dead. Koenecke's wife Gladys and daughter Ann were living in Brooklyn for the summer.  A spokesman for Mrs. Koenecke told the Associated Press that she would not speak to the press.  She was busy preparing to leave for Adams as soon as possible.[13]
The Funeral
Leonard Koenecke's funeral was held on Saturday, September 21, 1935 at the Trinity Lutheran Church in Adams.  His remains had been brought by train from Toronto and arrived in Adams on Train number 401 on Thursday afternoon.  Pastor Rev. N.A. Stubkjaer conducted the funeral service. Robert Roseberry was the funeral director.  More than 250 mourners attended.  By some accounts,  many people were standing outside the church because there was no more room inside.  However, all those attending within and outside the church were invited to a viewing in the front of the nave before the coffin was closed.  The chancel was covered with flowers but even then, not all the flowers could be practically displayed within the church.
Leonard Koenecke is buried in Mount Repose Cemetery, Friendship. His widow, Gladys never remarried.  She passed away in 1978 and is buried in Mount Repose Cemetery also. Len and Gladys's daughter,  as of 2004, Ann Koenecke Pinkham lived in Wayne, Indiana with her husband Robert.  Ann inherited her father's athletic abilities and is reported to have been a great pitcher when she played fast-pitch softball.[14]
______________________________________________________________________________________________________
This article previously appeared in the Spring 2004 edition of the Adams County Historical Society's newsletter The Quaatrefoil.
[1] "Many Attend Last Rites Held for Len. Koenecke", The Adams County Times, September 27, 1935.
[2] "Len Koenecke's Death Is Shock to Adams People", The Adams County Times, September 20, 1935.
[3] Many Attend Last Rites Held for Len. Koenecke", The Adams County Times, September 27, 1935.
[4] Indianapolis Indians Website, www.indyindians.com, team records.
[5] Robinson, James G., "The Fatal Fire Extinguisher" BaseballLibrary.com.
[6] "Koenecke. Ball Player, Is Killed In Plane as He Attacks the Crew"  New York Times, September 17, 1935.
[7]Robinson, James G., "The Fatal Fire Extinguisher"
[8] Dodgers publicity book, title and date unknown, page 70
[9] Robinson, James G., "The Fatal Fire Extinguisher"
[10] Maeder, Jay, "No Further Opportunity" New York Daily News, April 6, 2003.
[11] Robinson, James G. op cit. And the Associated Press, "Koenecke's Pilot is Held as Slayer" The New York Times, September 17, 1935.
[12] "Len Koenecke's Death is Shock to Adams People" Adams County Times, September 20, 1935.
[13] The Associated Press, "Koenecke's Pilot is Held as Slayer" The New York Times, September 17, 1935.
[14] William Voboril interview, May 5, 2004