Adams County in the Air
County People Caught the Fascination of Flight
By Harry Davis
A "Bumpy" Beginning
Adams County's first experience with the airplane turned out to be a non-starter.  Wisconsin pilot Floyd Barlow – who promised to fly in "Rain, Shine or Cyclone"—promised to fly in to the 1913 Adams County Fair in Friendship on his tour of west central Wisconsin county fairs.  Before he got to Friendship however, he "bumped into a bluff" at Durand and had to cancel the Friendship exhibition.[1]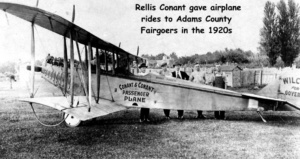 Other pilots and other planes later did come to central Wisconsin to give local people a taste of what it was like to be up in an airplane.  In the 1920s, Adams County was often visited by Westfield flyboy Rellis Conant, whose brother John practiced law in Westfield and Friendship.[2]
A Place to Land
The first airport in Adams County was laid out in 1928 at what was then Berry's Resort near Wisconsin Dells. The location is now the golf course across River Road from Chula Vista. Because it was on the Milwaukee Twin Cities airmail route, the runway was marked with directional arrows whitewashed into the grass and had a beacon light that rotated full circle when someone remembered to turn it on. How long the airport continued to be used is uncertain, but it was still there in 1933.
Up, Up and Away
It was not until the 1930s that local's appetites were whetted sufficiently to pilot their own planes, which they then did with enthusiasm.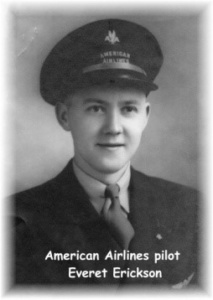 Some twenty years after Floyd Barlow missed flying into Friendship, another transient pilot was giving plane rides at the Adams County Fair.  Two local young men, Shirley Johnston and Everett Erickson took plane rides that day and in so doing were bitten by the flying bug.  Very soon the two were traveling to Wisconsin Rapids to take flying lessons for $6.50 an hour including instructor and plane.  So far as anyone knows, Johnston and Erickson were the first native Adams County pilots, getting their pilot's licenses in 1936.  A third pilot soon joined them:  Bob Roseberry got his permit in 1938.[3]
The three pilots soon bought airplanes.  Roseberry and Erickson went together and purchased a Rearwin Sportster.  Johnston bought an Aeronca C-3.  The three then built an airport complete with a frame hangar and grass runway in a field located at State Highway 21 and 18th Avenue.  As to the aircraft, Roseberry's and Erickson's Sportster was traded for a Curtiss-Wright Junior and Roseberry later bought a J-3 Cub as well.[4]
Over the next several years the pilots flew around the state landing at any clear flat space, visiting fairs, giving rides and giving flying lessons.  Archie Davis, who became a military pilot in World War II, was one of their students as was the first woman pilot in the county, a schoolteacher named Jane Olsen.[5]
Grounded
World War II brought an end to that era of flying in Adams County.  Shirley Johnston joi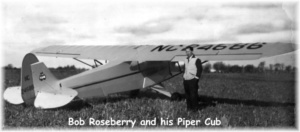 ned the Army Air Corps.  Everett Erickson became an American Airlines pilot based out of O'Hare Airport in Chicago and flew Boeing 707s before his retirement in the 1970s.  Bob Roseberry stayed in Adams County during the war, but had to move the planes to Wisconsin Dells because of wartime restrictions on aircraft.[6]
Flying High
After the war, civil aviation resumed in Adams County with more and more residents becoming interested and participating.  Attorney Donald Hollman flew his plane off a grass landing strip south of Adams during the 1950s.  Later, Leslie Flott cleared a 1,800-foot runway on his property near County Highway M and 11th Avenue.  In 1958 a forest fire burned a large area adjoining Flott's property including an American Legion Memorial Forest.  After the fire, the local Legion post donated the former forest property to the county and the new Legion Field airport, named for the property donors, was born.  Since it's opening in 1962 the Legion Field has been improved and expanded several times and has been the site of many successful flying events.[7]
___________________
This article first appeared in the Winter 2002 edition of The Quatrefoil Adams County Historical Society newsletter