They Called the New Village "Cascade"
What is Now White Creek was Once the Most Promising Village in the County
By Harry Davis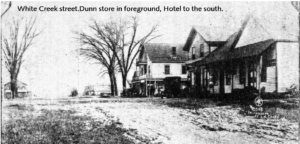 The new community of Cascade had a lot going for it.  It was built beside a stream that  was an ideal mill site.  The site was also well situated for travel in the horse and buggy era.
Halfway between the growing communities of Friendship and Kilbourn (now Wisconsin Dells) Cascade was an ideal stagecoach terminal.  The stage would change horses in Cascade and offer a chance for riders to get out of the coach and stretch a little on their way from Quincy or Friendship to the train station in Kilbourn.
White Creek (referring to the creek itself which is now named Campbell Creek)  offered good fishing as well as a mill-ready rapids and it flowed into the big Wisconsin River a short distance away.
At the height of its development, Cascade boasted two hotels, dance halls, a church, a school, the mill, general stores, a blacksmith shop, nice houses, picket fences and board sidewalks.  Cascade/White Creek's fortunes changed in the automobile era when State Highway 13 was built a mile east, bypassing the village.
A Promising Beginning
Like most villages in the county, Cascade/White Creek's story starts with a mill.  In Cascade's case the story's prologue also concerns a mill.  In 1850 Newel Carpenter built a sawmill on White Creek in block 35 of White Creek Township[1] below where the village was soon to be built in block 36.  The logs that the new mill turned into lumber very soon were used to build houses in the new village.
Having come to Cascade in 1851 or 52, Seth Thompson hired Newel Carpenter to build a gristmill on the creek in 1853. Thompson then moved his wife Sara and family from Janesville to Cascade.
The move from Janesville got off to a bad start.  The Thompsons first arrived at their new home in the evening of the day.  Sara Thompson refused to stay in the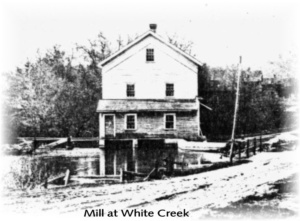 house that night because she was afraid of Native Americans.  She insisted on being taken to a neighbor's house three miles away for the night.  Although Mrs. Thompson never got over her fears, Mr. Thompson came to be on very friendly terms with the Native Americans.  Often in winter, some of them would come into the Thompson house at night to stay warm by the fire and slip away early in the morning before the family awoke.[2]
In 1854 Seth Thompson opened his gristmill for business.  He then turned in the first Platt for the village of Cascade. The elegant name was short-lived however.  In 1855, the Post Office department informed the applicants that there already was a Cascade, Wisconsin and the name was changed to White Creek.  Apparently, the Cascade name continued to be used locally for some time as both names are given in Platt Books years later.
As soon as the gristmill was in operation, the village began to grow.  Sara Thompson persuaded her siblings to move to Cascade, and her brother George Barker opened a store.  David Bacon opened a blacksmith shop about 1855.  George Bacon built a general store building on the southwest corner of Main and Jefferson Streets (now 14th Lane and Evergreen Drive) that also served as a hotel.[3]  Solon Pierce, the lawyer who later became a prominent Friendship resident and state legislator, started a practice in White Creek.  In 1861 Dr. William Fisher, a physician, came to White Creek and set up practice he kept for two years.  Other doctors followed him;  moving in, practicing there and moving on .
A Period of Growth and Change
As the town grew, new businesses were built and ownerships changed.
The gristmill changed hands a number of times in the early years.  Seth Thompson moved to Friendship in 1859 to become the County Treasurer.  He returned to Cascade, but not the mill when his term ended.  Meanwhile, the mill passed to a Mr. Pratt and then, in 1866 to W.D. Niles.  Niles had a heavy stonewall basement put under the mill and made other improvements.[4]  By 1876 the mill was owned by J.B. McIntyre who installed rollers for grinding fine flour. [5]  In 1882, Fritz Witt bought the mills at White Creek and at Easton.[6]  He and his sons operated the White Creek and Easton mills for many years.
A.H. Greenwood took over the store and hotel that George Bacon had built.  Across "Main Street", in about
1882, Thomas Dunn opened a general merchandise store and dance hall.  He also sold farm machinery and for twelve years was the postmaster.  The business was later taken over by Mr. Dunn's son Ira. A part of the Dunn store remains on the site and is now (2018) Johnny's Bar.  The dance hall was moved to Easton and is part of the Easton Town Hall.
White Creek Refuses to Die
The village of White Creek (no longer even thought of as Cascade) began its decline sometime in the late 1930s.  The stagecoach was long gone of course.  Trains still went to Wisconsin Dells, but they also went through Adams, Grand Marsh and Dellwood.  More and more, people traveled by automobile and the highway was a mile to the east. When the last White Creek postmaster, Edna Pease, resigned due to poor health in 1945, the position was not reassigned.
Nevertheless, the Lorenzo Smith family built a small tavern in White Creek in 1938 on what had become County Road H, a block south of what had been Cascade's Main Street. The Smiths added a dance hall to their building in 1941.   By then patrons included a growing number of daily and seasonal visitors arriving  by car.  The business continued to be a popular gathering spot through the 1950's and 60's and remains in business today.  Milwaukee Sentinel columnist "Jamie" wrote about the establishment in 1969 saying, "It is the only tavern I've been in where ice cream cones are as popular as beer."[7]
The most resilient establishment in White Creek is the Congregational Church.  On January 9, 1870 a small group met at the Schoonover Schoolhouse and established the Congregational Church of White Creek and Easton.  Reverend J.H. McChesney acted as the first pastor and the congregation met in the school building and private homes until a church could be built.  The congregation grew and a new church building was dedicated January 28, 1891.[8]  Over the years the church building has been added on to and kept in good repair.  It still serves the congregation today.
Epilogue
Today White Creek is a bedroom community for residents who are employed elsewhere. Mobile homes,  two taverns and some newer houses sit within a block of County Highway H along with decaying remnants of some of the original buildings of the promising village of Cascade.
___________________
This article previously appeared in the Fall 2005 issue of the Adams County Historical Society newsletter, The Quatrefoil.
[1] The Township of White Creek was vacated in 1878 and the village became part of Easton Township.
[2] "Historical Sketches of White Creek Village" Friendship Reporter, 1957
[3] "A Brief History", The Adams County Press, 1914 quoted by Mary Lee Klaus in a letter to Maureen Haught.
[4] "White Creek Items", The Adams County Press, June 22, 1866, p. 1
[5] From Past To Present, The History of Adams County, Adams County Historical Society and New Past Press, Michael Goc editor, p.29.
[6] Compendium of Local Biography of Columbia, Sauk and Adams Counties, Wisconsin, 1901, p 539
[7] "Town Is Ghost Of Former Self", "Jaunts with Jamie", Milwaukee Sentinel, August 5, 1969.
[8] "History of the White Creek Cong. Church" June 16, 1991