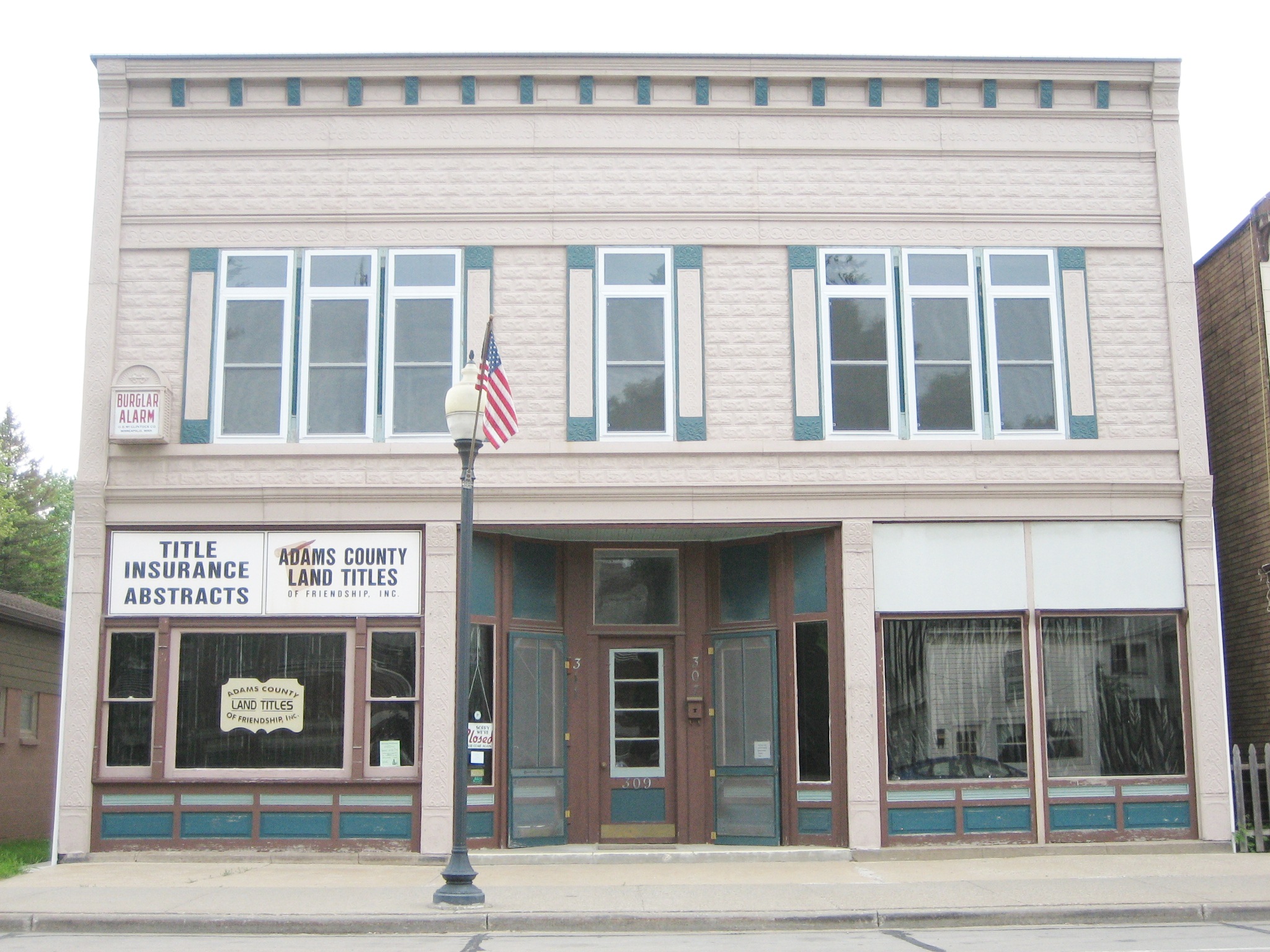 The Adams County Historical Society has recently acquired the historic Gunning-Purvis building in Friendship.  The building most recently has been the home of the Adams County Title Office. In the 106 years since it was built in  1905, the building has been occupied by a number of prominent businesses. Originally built as an office building, it has been owned by members of the Tuttle family
in recent years and lovingly maintained by them.
The historical society is now in
the process of converting this historic building into the Adams County Heritage
Center.  The center will be a focal point for the rich heritage of central Wisconsin.
It will contain museum displays, meeting space, office space, archives, library, and gift shop.
The truly unique thing about this building is that the interior has always been completely covered with beautiful tin ceilings and walls. Each room on both levels has entirely different sets of patterns.  The feeling that one is inside of a wedding cake has been a common reaction to seeing it for the first time.
At the time it was built, aside from being decorative, tin covered walls and ceilings were quite fireproof! Old photos show that it originally also was covered on the outside with metal, brick patterned siding. The original front has been maintained, roof recently
replaced with new metal and rubber roofing. New vinyl windows and siding as well as insulation have been installed.  The foundation has been redone also during the exterior renovations done in 2007.  The society has been told that it is the finest example of the tinwork of the era.
The south half of the ground floor is in move-in condition and will likely serve as a perfect place for the society's office, archives and gift shop.  This new space will allow expansion of service to the county and the sharing of valuable information and reference materials
with the public.  Additionally the north half of the ground floor allows space for our meetings and some events.
The upper level has four more original large rooms that were made into four apartments that have been unused in recent years. Removing the partitions of these apartments will allow for much more future display and storage space to be able to share the many donated items that must be kept stored due to lack of space for display.
The preservation this gem of a building may be a double benefit to the society as well as Adams County. It will make a wonderful Adams County Heritage Center.